Background/ Why Is This Important?
British Columbia's (BC) BC Children's Hospital (BCCH) provides the Tier 6 pediatric sub-specialist care and expertise to children in the province.  For children living outside of Vancouver, a trip to BC Children's Hospital for pediatric specialist or sub specialist care can mean significant travel, cost and disruption for the whole family, not to mention the impact on the environment due to the travel. Virtual health care through virtual visits provides an opportunity for children and their families to be seen in their own communities without even leaving home. 
Child Health BC, a Health Improvement Network (HIN) of the Provincial Health Services Authority (PHSA) works in partnership with the Office of Virtual Health, BCCH and Regional Health Authorities to lead pediatric initiatives across the province. Virtual health - defined as any health care encounter that is not a face-to-face interaction - enables children to be seen in their homes or communities, seamlessly integrating specialized care into their overall plan. 
Child Health BC has partnered with the Health Authorities and many divisions at BC Children's Hospital to optimize virtual care across all its patient programs and services. Virtual health has the potential to decrease the burden of travel for families, optimize scarce sub-specialists resources and to enhance access to follow-up care after hospital discharge.

What Actions Have Already Been Taken?
In 2014, Child Health BC initiated the first wave of virtual health initiatives with the introduction of Technology-Enhanced Access to Children's Care (TEACC), using technology to address gaps in equitable access to care across the province. This initiative is now called TelePICU.
 
This work included two streams:
The launch of the Tele-Pediatric Intensive Care (Tele PICU) - a first of its kind in Canada which uses digital equipment to link local teams caring for critically ill children with real-time intensivist support and guidance; and
The enhancement of Telehealth connectivity in communities around the province, which increased the number of "pediatric enhanced" sites.
Both initiatives use Telehealth technology, a service that allows clinical experts to connect via videoconference link with patients and care teams across BC, including in remote and distant communities and First Nations communities. 

The benefits of Telehealth include helping reduce patient travel and impact on families, improving health outcomes for children discharged from hospital to home, and minimizing hospital admission or re-admission.  
There are currently 7 TelePICU sites and 19 pediatric-enabled telehealth sites across BC, see map.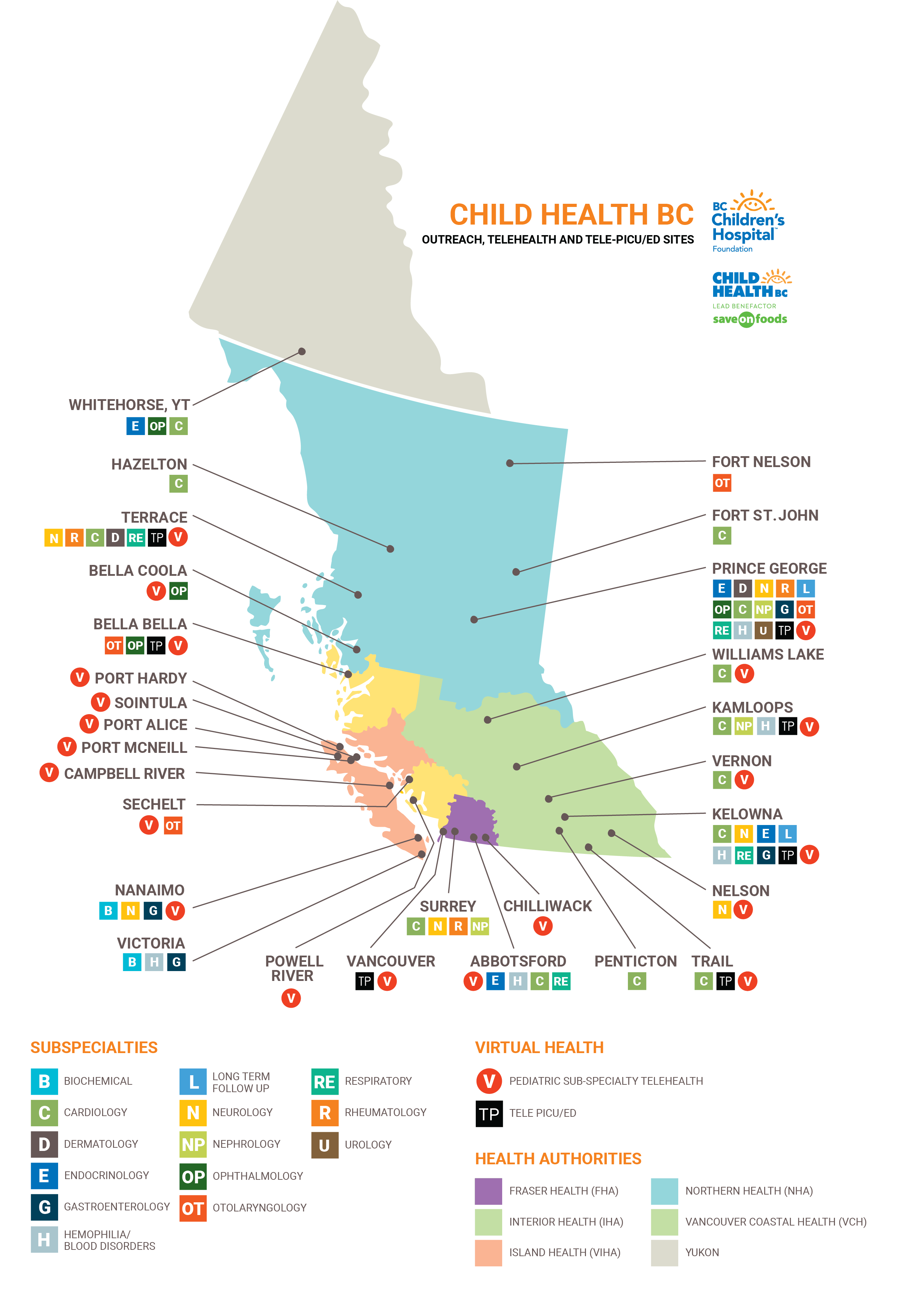 In March 2020, in response to the Covid-19 public health recommendations, rapid Virtual Health training and support was required for clinicians & support staff at BC Children's and Women's Hospitals. Child Health BC (CHBC) was asked to develop resources, provide training and evaluate the project.  895 staff were trained in 101 live sessions during a 6 week period. To continue to provide Virtual Health Training, an online eLearning Module (Learning Hub #23269) was developed and has been used by several hundred staff as part of their orientation to BC C&W. As of March 1, 2022, this eLearning module has been archived. Looking for Virtual Care training? Please refer to PHSA's Office of Virtual Health website.  
Where Are We Now? 
Child Health BC is also advancing a broad provincial strategy for delivering the highest quality virtual pediatric care and patient experience throughout BC. This includes exploring collaboration for virtual care initiatives in the Northern Health Authority, RCCBC and with the First Nations Health Authority. 
 
In 2022, an eLearning Module has been developed for clinicians at sites participating in the TelePICU initiative. The TelePICU Cart Basics Training (LearningHub #25796) provides an introduction to the TelePICU initiative, provides a fulsome demonstration of the various carts and technology used in the initiative, provides Virtual Health resources and gives troubleshooting techniques. A skills validation quiz is also available as a self-assessment tool for clinicians who have previously completed this training.