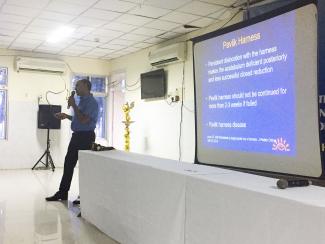 Child Health BC's Hip Surveillance Program shares knowledge and surgical expertise with hospital in Tirupati, India!
Dr. Kishore Mulpuri has been travelling to Tirupati in his native India since he was a boy. This past summer, he returned again with members of a team from BC Children's Hospital to the Hospital Balaji Institute of Surgery Research & Rehabilitation for the Disabled (BIRRD) Hospital, where he has in more recent years been volunteering his time teaching and performing surgery. The BIRRD Hospital is a 250 bed facility providing orthopaedic care to those in need from all walks of life. 
As part of the I'm A HIPpy organization's mission of improving hip health, mobility, and quality of life for children around the world, Dr. Mulpuri travelled with Maria Juricic, physiotherapist, and Salima Damani to share surgical expertise, education, and bring awareness of the need for early management of potential life-limiting hip conditions. In collaboration with his surgical colleagues, he performed surgeries for five children and youths, during which local orthopaedic residents and surgeons were able to watch live video feed and ask questions of the surgeons in the operating room. 
The week also included a number of presentations by Dr. Mulpuri where he shared with staff and trainees details of the recently implemented Child Health BC Hip Surveillance Program for Children with Cerebral Palsy, the first of its kind in North America. The team also spent time with physiotherapy, social work, and nursing staff at BIRRD, sharing information and practice strategies for caring for children with CP and motor impairments.