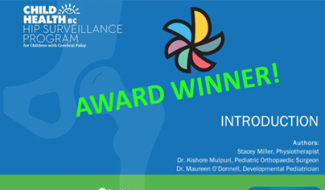 Congratulations to CHBC's Hip Surveillance Program Stacey Miller, project lead and Kishore Mulpuri, medical lead for being awarded the 2017 Fred P. Sage award by the American Academy for Cerebral Palsy and Development Medicine (AACPDM).  The award recognizes the best multimedia educational material in a digital format. 
This online learning module supports the implementation of the Child Health BC Hip Surveillance Program for Children with Cerebral Palsy.  It is intended for physical therapists, occupational therapists, physicians, and all other health care professionals working with children with cerebral palsy.  The learning module describes
hip displacement and why it occurs in children with CP,
the BC Consensus on Hip Surveillance for Children with Cerebral Palsy and how to complete hip surveillance in BC,
how to use the Gross Motor Function Classification System, and
how to identify a Group IV hemiplegic gait pattern.