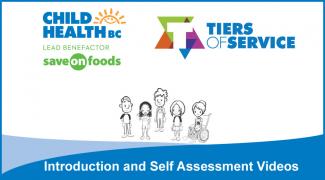 Child Health BC's Tiers of Service videos are available for viewing! System planning for children's health services is a major area of focus for Child Health BC and its collaborators, (health authorities, ministries, non-profit organizations, school boards etc)  The Tiers of Service framework provides a tool which can then be used to define and plan this system of service.  It provides a common language and methodology for defining and planning child and youth health services in BC.
Check out our Tiers of Service Introduction video.
Once a Tiers of Service module is finalized and accepted by the key partners in the province, a self-assessment is completed. Child Health BC works with our health authority and other partners as necessary to get this work completed. 
The Tiers of Service Self Assessment video describes in more detail what the self-assessment entails, how to prepare for the self-assessment, and supports available. 

We hope you find these to be useful resources and please contact us for more information or with any questions you may have!